13.09.2017
The best Apple iPhone 8, iPhone 8 Plus, iPhone X & Samsung Galaxy Note8 cases !
Premium Quality Leather Cases to Protect your Smartphone
Noreve of Saint-Tropez releases its new collection of premium leather cases for flagship smartphones including iPhone 8, iPhone 8 Plus, iPhone X from Apple and the Galaxy Note 8 from Samsung! We, at Noreve believe, smartphones with such high levels of performance deserve the best protection, while at the same time have a long life and add to your style statement. With more than 70 colors and 10 different leather textures, covers from the house of Noreve have been selected by users in order to protect with style and confidence, the technological jewels of actuality.
The phone cases including those of iPhone 8, iPhone 8 Plus, iPhone X and Samsung Note8 are designed to meet the needs and expectations of users.
The glass screen protection of these smartphones is one of the reasons why it is necessary to offer a worthy cover for these smartphones. A fall can be fatal requiring a costly screen replacement. A quality cover will prevent any damage and you can stop worrying about scratches on your phone. However a case is not limited to simply protecting your phone. It is also a fashion accessory and a distinctive sign of your personality. If you are cautious and have the wise habit of taking care of everything you will succumb to the charms of the house of Noreve. Chic, unique and authentic, all the pieces are designed by talented leather craftsmen in line with the most sophisticated attention to quality. We offer five different models that meet different expectations of our customers.
Stylish elegant and ultra-resistant cases
The cover with vertical flap [or Tradition] completely protects the device making it very practical to us,e thanks to its system of closure (a front flap with easy clip on top of the device).
Wallet-style case [or Tradition B] requires more work from our craftsmen and is the most robust of all. It allows space for bank cards (or business cards) within the case itself. Its thickness guarantees optimal protection while at the same time is functional and easy to use (magnet closure).
The pouch [or Tradition C] is the safest accessory for your iPhone 8 or Note8 because it completely encompasses the device and its "padded" sides absorb the shocks from daily usage.
The simple horizontal flap case [Tradition D] protects smartphones entirely while remaining handy in everyday life (the flap simply clips to the side of the device).
The rear shell [or Tradition E] covers only the smartphone back making it thin and highly practical. It protects the back part, edges and all corners. All professionals like it because the screen stays accessible all the time and the phone can easily slide into a pocket.
Available from EUR(€) 35 to 155 and in hundreds of possible variations.
The « more » of the Noreve brand : the Galaxy Note8 and iPhone 8, iPhone 8 Plus, iPhone X custom-made certain and trend cases !
The market is full of "cheap" and "not so cheap" covers. Unfortunately, most of the time, product quality is not respected.
All our phone cases are handcrafted with a frame and according to an exclusive brand technique. This is a speciality of house Noreve for more than 14 years and a well kept secret.
Custom handcrafting covered with genuine leather (or a leather imitation depending on your choice) !
Our covers protect the edges and corners of your smartphone against all kinds of shocks if & when it falls. The chosen materials for our creations are essential. That is why our quality control, and our leather experts carefully selected to keep only the best materials, those known for their soft material, their robustness and their durability (grained leather, the highest quality leather).
Noreve is, without a doubt, the world's premium brand with the widest variety of ranges, textures and colors.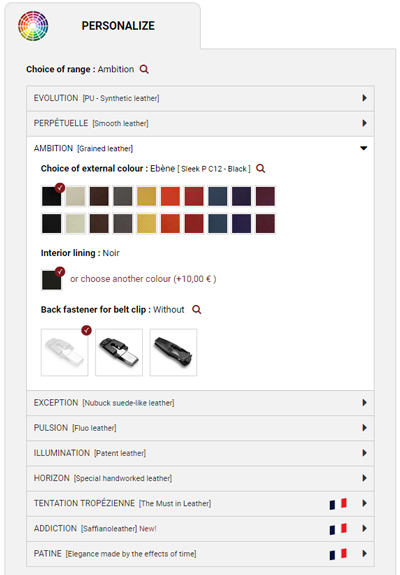 Among the leather types ("finishes") available for your iPhone 8, iPhone 8 Plus, iPhone X or Galaxy Note8 you can be seduced by
Each of these finishes can be handcrafted with or without seam (except Patine & Addiction finishes).
As for the colors (noir, marron, tomate, sable vintage, bleu indigo, serpent, crocodile pino, orange vibrant, rouge passion …), it is impossible to list all of them as there are a lot! The inner lining can also be customized and designed different from the outside colour. Differentiate yourself with an exceptional piece that sticks to your personality. A cover according to your style, with high quality finishes, will be your favorite accessory of your precious Apple iPhone 8, iPhone 8 Plus, iPhone X or Samsung Galaxy Note 8 : https://www.noreve.com.
***