05.04.2018
Ode to the Samsung Galaxy S9: Thou art the most wondrous
Launching customisable cases for your new Samsung!
Quality deserves the best. Keeping that in mind, artisans from the house of Noreve doubled up their efforts to bring to you the latest offering of phone cases for a recently launched premium segment of phones.
Noreve of Saint Tropez is proud to present a range of the most beautiful cases for the newly launched Samsung Galaxy S9 and Samsung Galaxy S9+. With this new range of cases and covers, you can now dress up your Galaxy as you please in up to 150 colours and 10 different leather textures!
Since a phone case is not only limited to protecting your phone, these phone cases have been designed to perfection with precise measurements to allow ease of usage and add to your style quotient. The house of Noreve brings out the best for, "Smartphones that re-imagine the way we communicate, share and experience the world." These premium quality products aid your life and make it so much simpler and secure. The Galaxy S9 (or S9+) also helps.
The cases are chic, unique and authentic (and made from patented leather too, if you'd like) so that your smartphone is not only smart but also the best dressed. (#bestdressedphone)
A cover befitting your Galaxy
At Noreve, we design the product keeping user requirements in mind without any compromise. These wallet style phone cases have been tailored to the perfect cut to adapt to the curves of your Galaxy.
Shelling out for Luxury
Choosing from our selection of colors and leather textures can be a difficult choice. If you like to be careful with your devices, you will be spoilt for choice. But you can safely relax with a Noreve Shell case.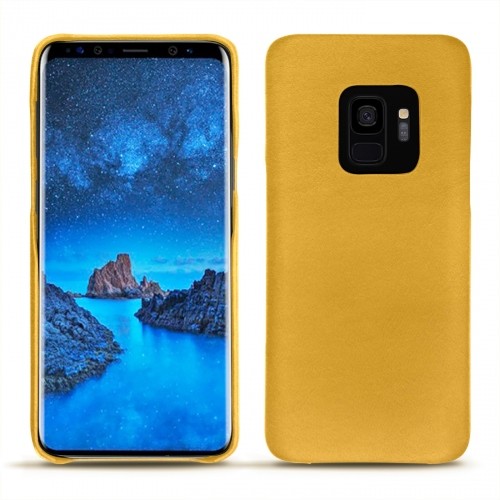 Supreme Personalisation
Shell cases are not just the ones that can leave you at a loss for words. Noreve also has numerous personalisation options so that your case matches your personality. The cases have been handcrafted to perfection leaving out convenient spaces for all the connections you could want.
Classic Flip cases
If you are particularly clumsy, these cases are the one to go for. It will protect your phone if it accidentally slips from your fingers. Designed with the best of modern aesthetics and built with a secured closure, this sublime cover will protect your phone from all kinds of breaks and scratches.
All this is fine, but, Why Noreve?
We like to take care of your devices and take pride while doing so. We only present you with a product when we are sure that your experience with us will be a good one. Each phone case from the house of Noreve are hand made by artisans who have honed their craft over the past 15+ years and select only the best on leather. The elegant design and the luxurious finish further add to the charm. A huge range of colors and leather textures are just an icing on the cake.
***