30.10.2017
Qwesteo & Noreve: A Partnership Celebrating Custom Leather Bill Holders with the Hotel Industry
Innovation project to improve customer satisfaction
Qwesteo society presentation
Launched in 2013 Qwesteo is a unique solution for customers' issues at interactive terminals. It is a project of EVALANDGO company specialized in collecting of large-scale customer database (leader in the online survey market with more than 150,000 users of its SaaS Eval & GO application).
The innovation system proposes non-traditional customer service solutions based on a non-intrusive approach. It means a customer equal a click and a 30% less of response rate on average. Each user answers a few questions about the terminals the manner the questionnaires turns intelligently. The application will display the most relevant questions based on previous answers and automatically recompile the data. An interface allows remote control and the production of complete analysis reports. Thus, the tool effectively transforms customer perception into a key indicators to deal a business.
Today Qwesteo has proved itself with many great brands (EDF, La Poste, Auchan Retail, Maif, Transdev, Leroy Merlin, METRO, Elior…).
The company offers a range of terminals adapted to different usages (fairness, satisfactions, complaints …) in order to meet each customer specificities.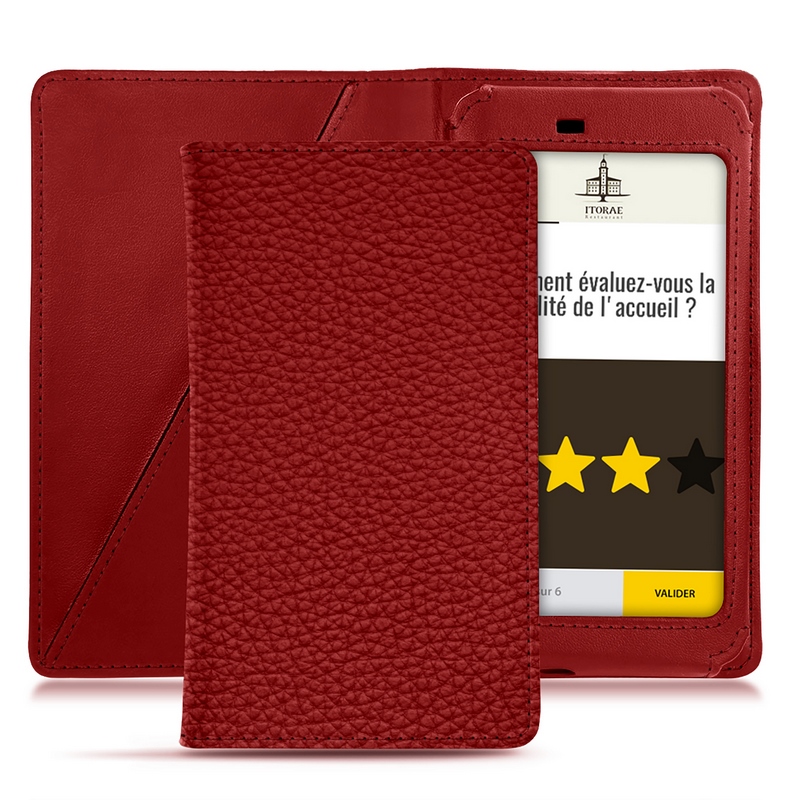 A collaboration with the Pocket Qwesteo terminal is a useful and elegant tool dedicated to the hotel-catering industry and customers satisfaction
Qwesteo places customers at the center of its strategy and intends to improve its business and management by maximizing customer perception while managing online issues. For this reason the company launched a customer satisfaction "pocket" to deposit the same time as the coffee, the bills at the end of a meal or while paying an invoice.
Noreve was responsible for dressing these devices with an elegant and robust protection. So it created a custom leather bill holder which accommodates both the bill and the pocket terminal with its 5.5 inch touchscreen. The device can be recharged with the protective cover. All these cases are customized in the choice of (texture, color, design, logo of the establishment).
Multiple devices can be deployed in the same place and related to a connected charger base. Customers respond in a few clicks to the questionnaire defined by the catering brand and the results are transmitted to the Qwesteo piloting tool. Responses can be used to manage a claim in live.
Having a simple usage this device is perfect for a hotel / restaurant brand which wants to improve its customer service strategy and be reactive!
The Qwesteo "Pocket" terminal is also a great tool for a positive managing of teams. Because a customer's feedback is not only a complaint but also a positive comment permitted to enhance a quality of work.
The obtained results can be visible to the customers to estimate the institution quality. The tool also allows to create a useful database to reply to the issues or to enlarge the customer base (management lead).
The Qwesteo pocket terminal in its custom-made leather cover realized by Noreve:
Useful information
EVALANDGO: A company based in Montpellier and founded in 2010 specializing in concept and marketing of innovative customer service solutions. www.evalandgo.com – www.qwesteo.com
Contact Presse : Karine Peyrichou
NOREVE: Based in Saint-Tropez and founded in 2003 Noreve brand specializes in handcrafting of custom-made high quality leather or premium leather imitation accessories for mobile devices and small leather goods: www.noreve.com
***