13.01.2023
The revolution of the protections for mobiles of the House Noreve.
A new step towards Excellence: new designs for you and the planet.
After two years of research and development, Noreve is proud to present the culmination of a meticulous process with the arrival of new designs aiming to get as close as possible to perfection and absolute luxury.
« We have improved our manufacturing process and increased our quality and carbon footprint requirements for the latest models released. To make this possible, we have expanded our team with new production and new leather craftsmen who have been working for years for one of the world's leading luxury brands. A brand whose name I cannot reveal but which is known worldwide for its haute couture creations and top-of-the-range bags. It is this prestigious know-how that allows us to make an important turn in the History of our brand. A real entry into the world of luxury and Haute Couture for mobiles, which no one has done until now. ».
Michaël Massat, CEO of Noreve.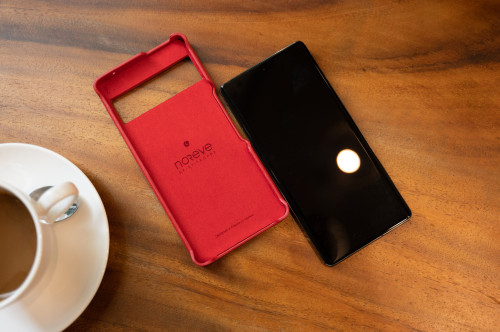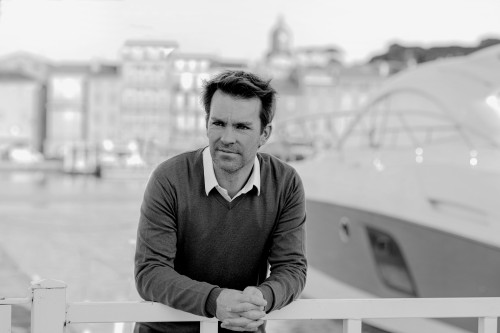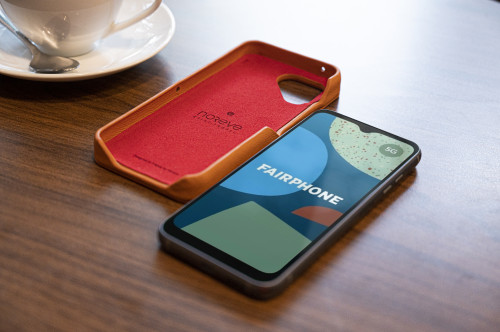 Noreve revolutionizes mobile protection and perfects its designs on its new models
Customer feedback is at the heart of the continuous improvement of Noreve's designs. During all these years of experience and dialogue, Maison Noreve has never stopped searching for the perfect design and materials for each of its creations.
Today, thanks to years of effort, experience and continuous improvement, Noreve is experiencing one of its greatest advances with the arrival of its new Haute Couture designs, the result of a meticulous technological prowess, a refinement worthy of French Haute Couture and an ever more present eco-responsible approach.
More qualitative and environmentally friendly protection
With its new luxury mobile phone covers, the master craftsmen of Noreve have revolutionised their manufacturing process to find a perfect balance between luxury, elegance, practicality and efficiency. They have succeeded in combining the best weight/thickness ratio with optimal protection of your devices while aligning their quality criteria with those of Luxury and Haute Couture, in a sustainable ecological approach with a more positive footprint on the world.
Eco-responsible production is no longer an option for Noreve; with these new designs, the French brand puts an end to plastic injection moulds, over-stocking and waste. All the creations are made to measure, from A to Z, at the customer's request (except for the non-customised items, which are available in stock, limited in number and shipped within 24 hours for our most urgent customers).
Ecological and aesthetic developments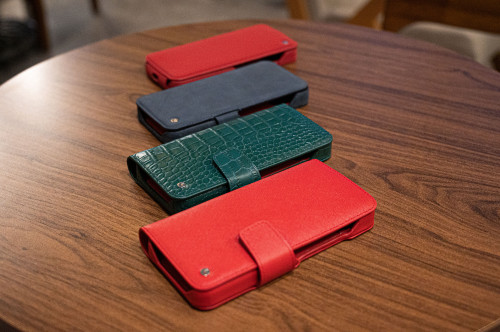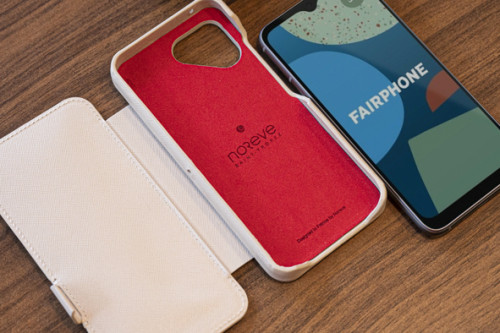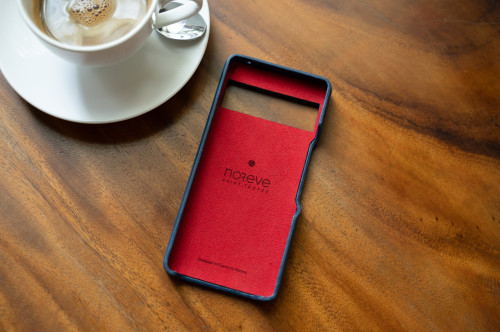 Here are the main improvements to the House's creations: :
An interior in red alcantara: the hallmark of the Noreve brand and its flagship colour, the red of the Tentation Tropézienne finish.
This new material, softer to the touch, durable and aesthetic, has the advantage of being softer and much lighter than leather. The backs of the phones are thus skin to skin with this soft and reassuring material.
A perfected inner shell, exclusive to our House. Each shell is made to measure, to the millimetre, in order to perfectly fit the contours of a given device while being entirely covered in leather. No silicon or plastic protrudes, unlike many products now available on the market for mobile protection of any kind.
Even more refined finishes with more precise and careful seams, more practical and refined closures, even more precise and beautiful cut-outs and edge painting.
A straighter and squarer design, studied to last longer and better resist to daily and intensive manipulations.
Even more refined finishes with even more precise and careful seams, more practical and refined closures, even more precise and beautiful cut-outs and edge painting.
A drastic reduction in waste with an efficient use of leather scraps and a significant reduction in stocks in order to give greater priority to orders on demand and custom-made products, whether they are orders from individuals or professionals.
Technical innovations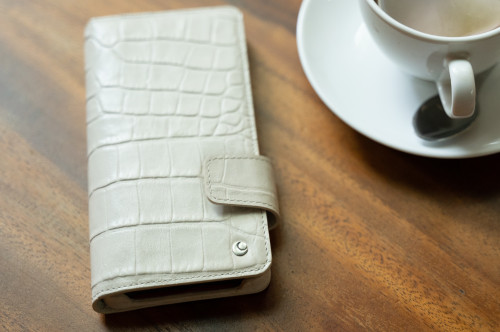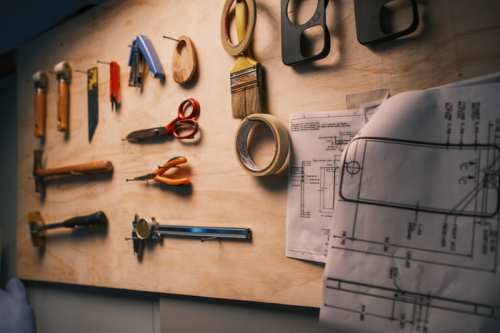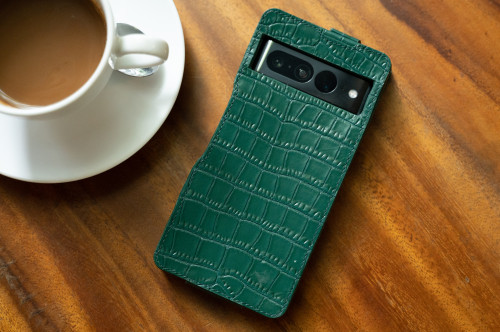 The aim of the House has always been to strive for excellence. This is reflected in these new designs, whose innovations and strong points are :
A lighter but even more resistant frame (conclusive crash tests with shock absorption and resistance to falls of 1m50).
Greater overall durability with more square shapes designed to have better resistance to friction.
Better handling, more flexibility with a softer inner structure and more practical and elegant closures.
Enhanced protection with optimised edge levelling with the screens and fully protected and secure corners.
Compatibility with official induction chargers thanks to an innovative internal system that allows it to adapt to the latest technological advances of the major mobile device brands.
Here are the first models of these new luxury protections from Noreve
Already available:
Fairphone 4 cases
Google Pixel 7 cases
Google Pixel 7 Pro cases
Sony Xperia 5 IV cases
Sony Xperia 5 III cases
Xiaomi 12 Pro cases
Coming soon:
OnePlus 11 cases
OnePlus 11 Pro cases
Xiaomi 13 Pro cases
And many more to discover on the website : www.noreve.com.
***